PODCAST

: A Death Ruled

"

Justifiable": The Killing of John Wesley Wilder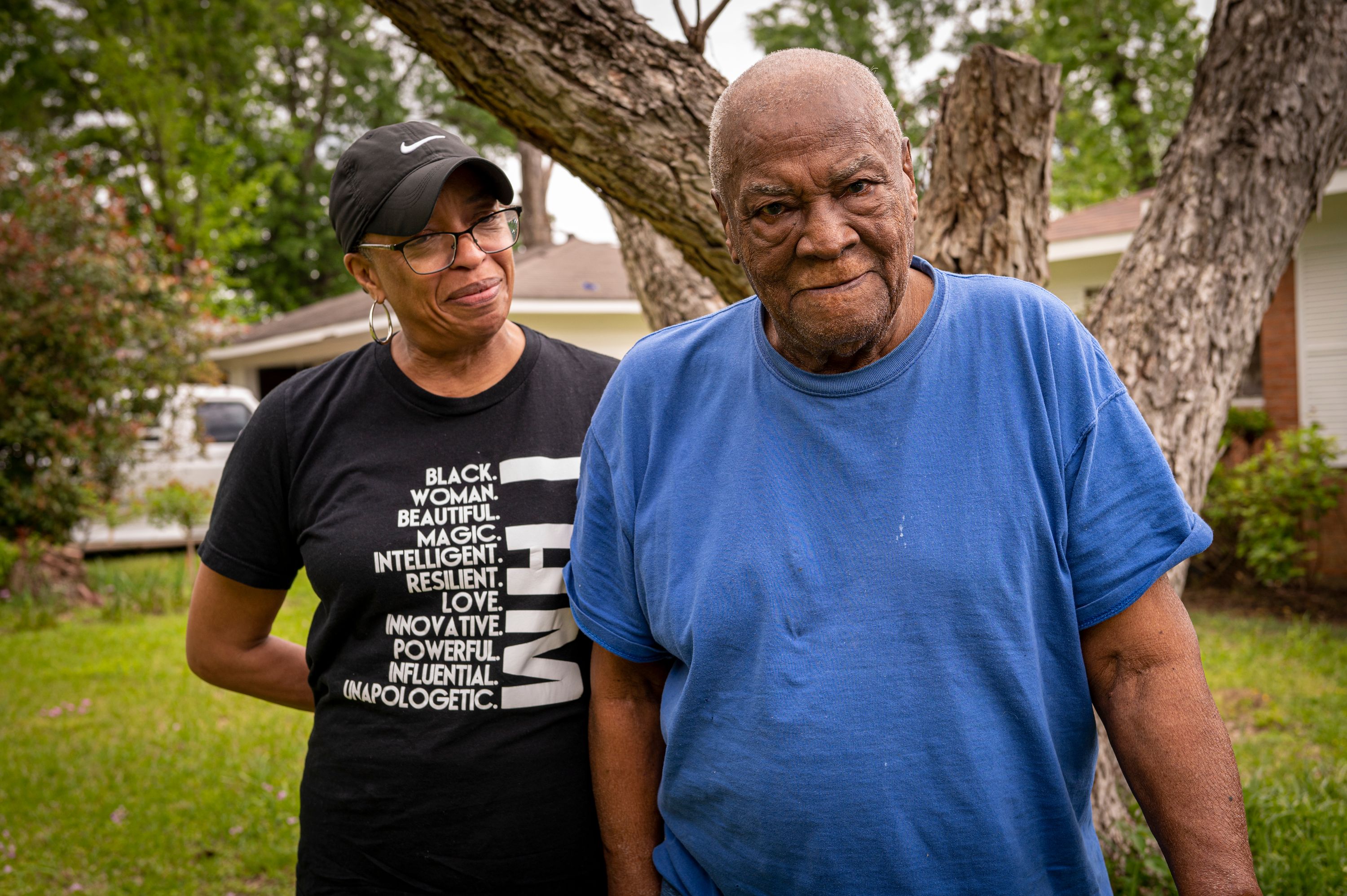 Emzie Wilder and his daughter Shedonna Wilder-Martin stand outside his home in Shreveport, Louisiana. Photo by Ben Greenberg.
In 1965, Emzie Wilder's brother, John Wesley Wilder, was shot and killed by police officer Edward Alton Nugent in Ruston, Louisiana.
Today Emzie is 92 years old, living in Shreveport, Louisiana. I've spoken with Emzie and his daughter Shedonna Wilder-Martin for "A Death Ruled 'Justifiable': The Killing of John Wesley Wilder," my contribution to Still Paying the Price: Reparations in Real Terms, a new podcast series from LWC Studios. I reported, produced and wrote the episode, which was made in partnership with the nonprofit newsroom Type Investigations and with support from the Fund for Investigative Journalism.
It was a little after 2:00 AM on a Saturday in Ruston in July of 1965. Officer Nugent came driving down Jones Street as John Wilder was staggering out of a cafe where he'd been drinking. Nugent was white. Wilder was Black. What happened next is still disputed today, but Nugent shot Wilder five times.
Local authorities quickly ruled the death a justifiable homicide in self-defense.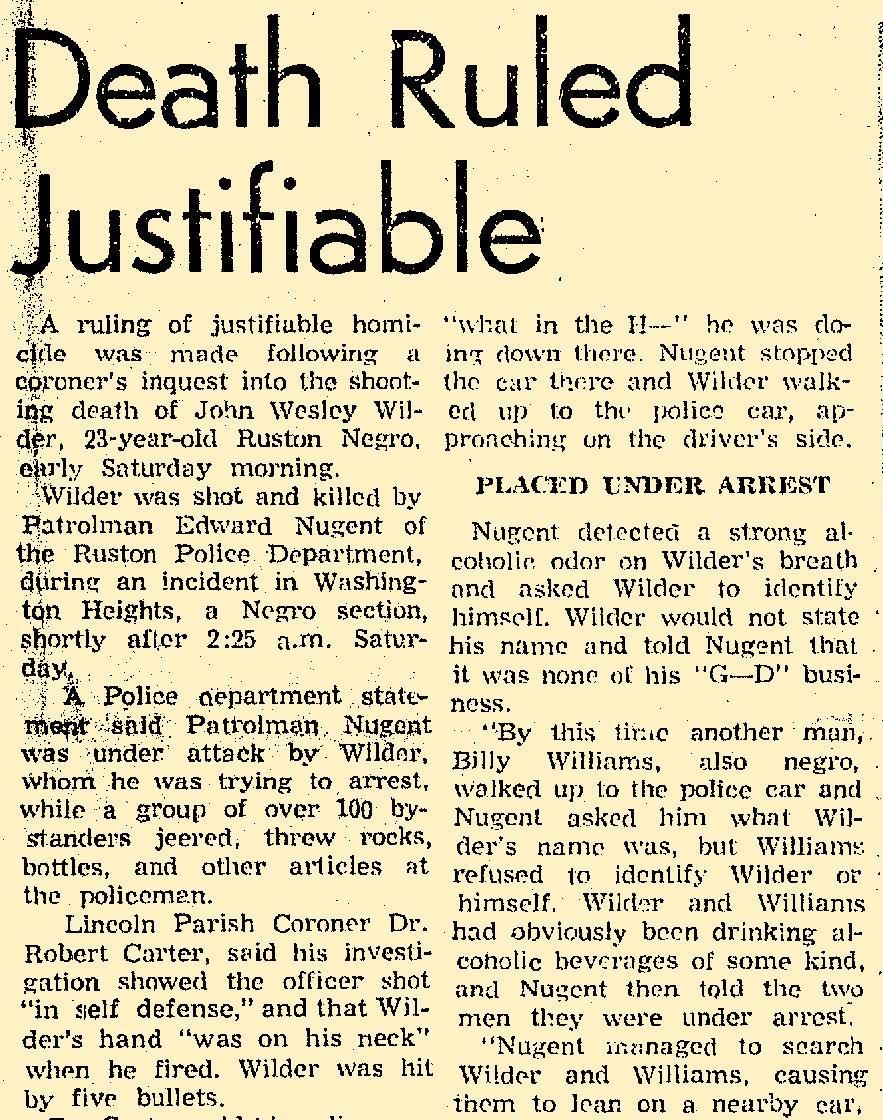 Excerpt from the July 19, 1965 Ruston Daily Leader article on the killing of John Wesley Wilder by Ruston police officer Edward Alton Nugent.
For the next four decades, the Wilders privately carried their loss. But in 2008, groundbreaking legislation introduced by U.S. Representative John Lewis offered new hope to scores of families like the Wilders. The Emmett Till Unsolved Civil Rights Crime Act (PDF) directed the Department of Justice and the FBI to investigate unpunished racially-motivated homicides from before 1970.
After three years of an investigation that appeared minimal at best, the Justice Department closed the Wilder case again in 2011, concluding that "there is insufficient evidence to contradict [the officer's] account that he fired in self-defense."
When I first looked at this case a few years ago, I saw a Justice Department document from 2011 that said Nugent was then alive—and he's still alive today.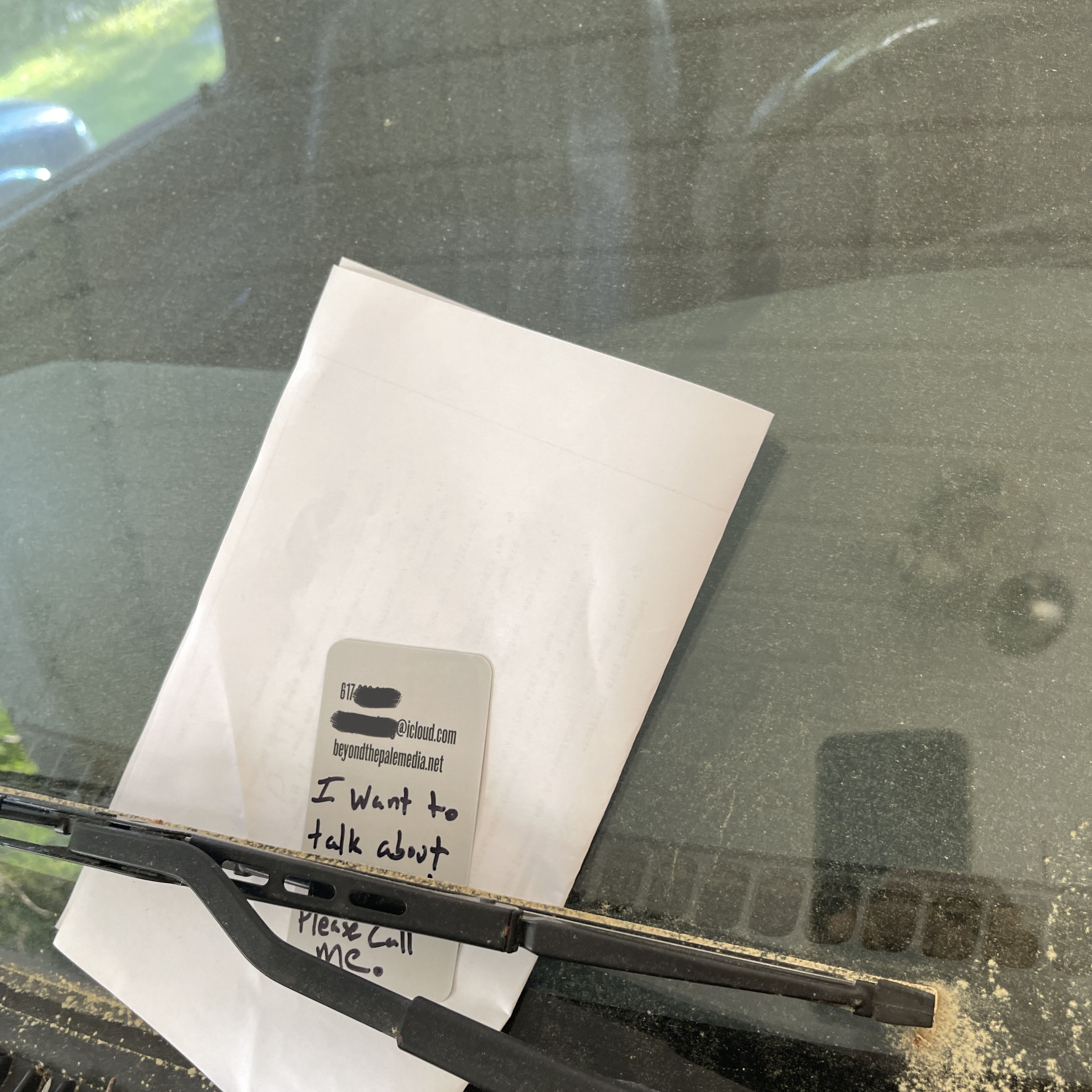 My business card and a page from a 1965 witness affidavit left on the windshield of former Ruston, Louisiana police officer Edward Alton Nugent's pickup truck, at his home in Ruston. A note on the business card reads, "I want to talk about John Wilder. Please call me." Credit: Ben Greenberg
I also saw that Emzie talked to the press in 1965 and said "the truth has not been told" and that there were eyewitnesses who said John "offered no opposition before he was shot."
"In the event Ruston does not do something," Emzie said, "my family and I will have to seek help from the NAACP, CORE and others anxious to move in to make sure that my brother did not die in vain."
I wanted to know more about Emzie's fight for justice, and I wanted to know about those eyewitnesses. According to public records, Emzie was also still alive, in his early 90s. Did the FBI talk to him? Did the bureau try to locate the witnesses? I left Emzie some phone messages and sent him a letter but did not hear back from him.
But then I reached his daughter Shedonna, who was 5 when her uncle John was killed. Shedonna did not know that John was killed by a police officer.
"What I was told was that my uncle was in an altercation, in a fight," Shedonna later explained. "I'd never heard anything about it being a police officer. I never heard anything about it being a white police officer."
This got Shedonna and her father talking, and this past November I met them both for the first time at Emzie's house in Shreveport.
By this time, I had also found in an archive sworn statements from Black eyewitnesses—gathered by Emzie with help from the local NAACP in the months following the shooting. The witnesses all said that Nugent initiated the confrontation with Wilder and that there was no physical contact or scuffling that could have been interpreted by Nugent to be an attack from Wilder.

Excerpt from sworn affidavit by Pervis Clemmons, September 6, 1965, Rabinowitz, Boudin, Standard, Krinsky and Lieberman Legal Files, Tamiment Library and Robert F. Wagner Labor Archives
And not long after I met Emzie and Shedonna, I found another eyewitness who did not give an affidavit in 1965. His name is Bill Smith.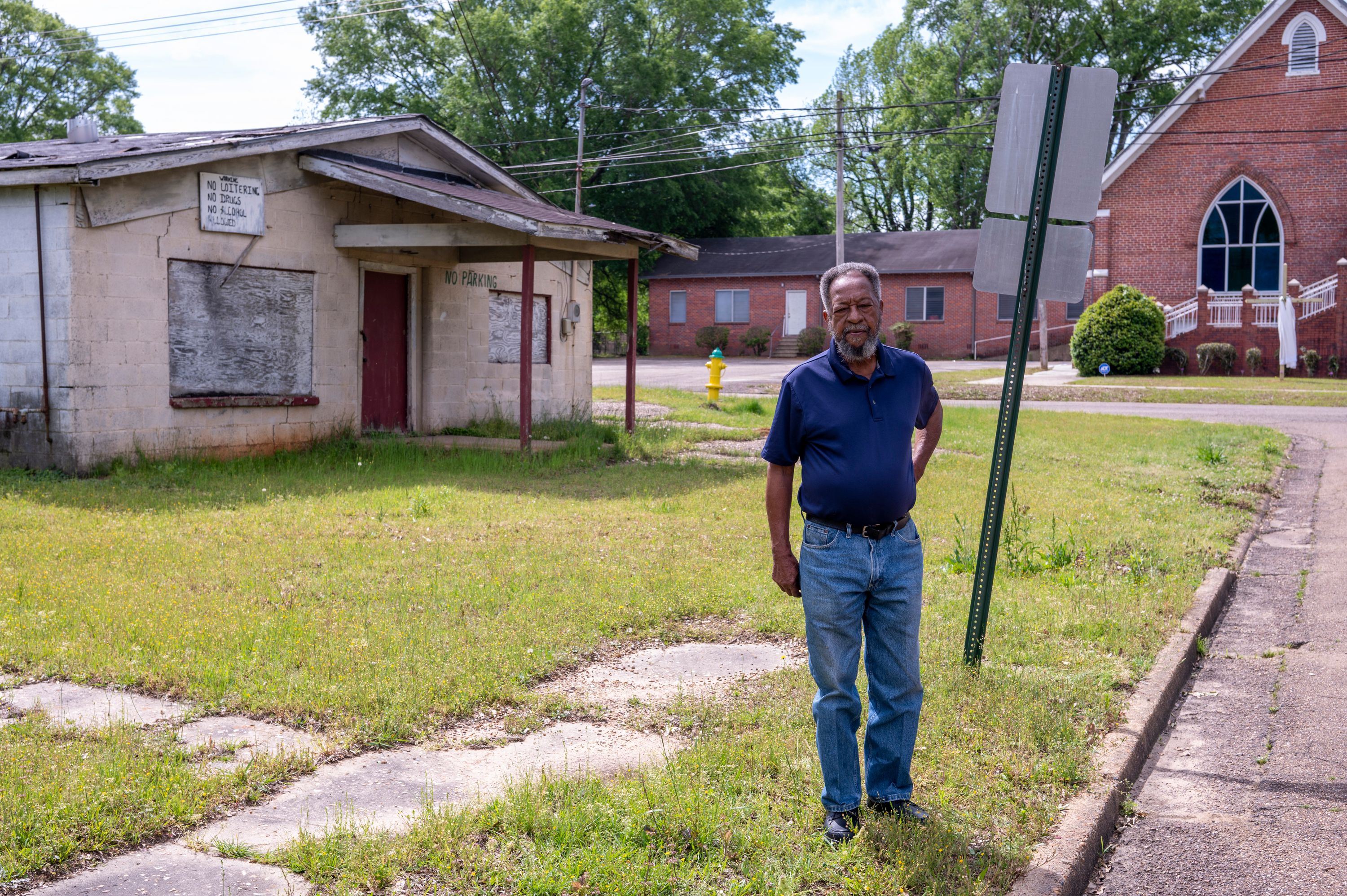 Bill Smith stands on Jones Street in Ruston, Louisiana, in front of the former cafe, near the spot where John Wilder was killed. Photo by Ben Greenberg
Sixteen years old in 1965, Smith says he was there on Jones Street when Edward Nugent Shot John Wilder. And Smith agrees with the other witnesses. He says that Nugent shot Wilder without any provocation at all. He also says that the FBI has never spoken to him about the killing. And Smith wants accountability for Wilder's death. "The system is only as good as we make the system," he said.
There is, in fact, substantial evidence contradicting Edward Nugent's account that he fired in self defense.
Cynthia Deitle, former chief of the FBI civil rights unit, says the new evidence should prompt the Justice Department to reopen the case.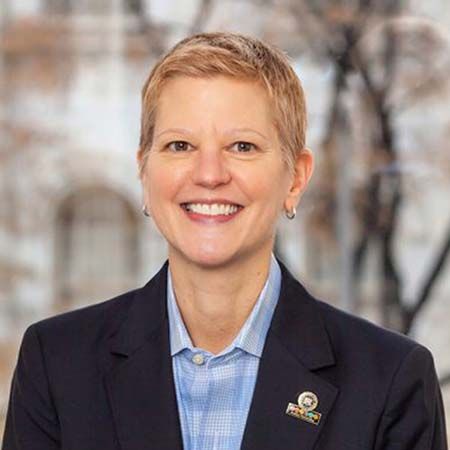 Cynthia Deitle. Photo courtesy of Cynthia Deitle
"I would hope that in this case, the FBI would reach out and see what more can be done," Deitle said.
Is justice still possible for John Wesley Wilder, and what would it look like?
Listen to the whole story in the player, above, or wherever you get your podcasts.
For more information, all episodes and transcripts, visit stillpayingthepricepod.com. This series was funded by a grant from The John D. and Catherine T. MacArthur Foundation.
July 24, 2023 cold case police brutality ruston louisiana john wesley wilder fbi doj till act racist killings
Racist Murder of Clifton Walker Could Still Be Solved after 59 Years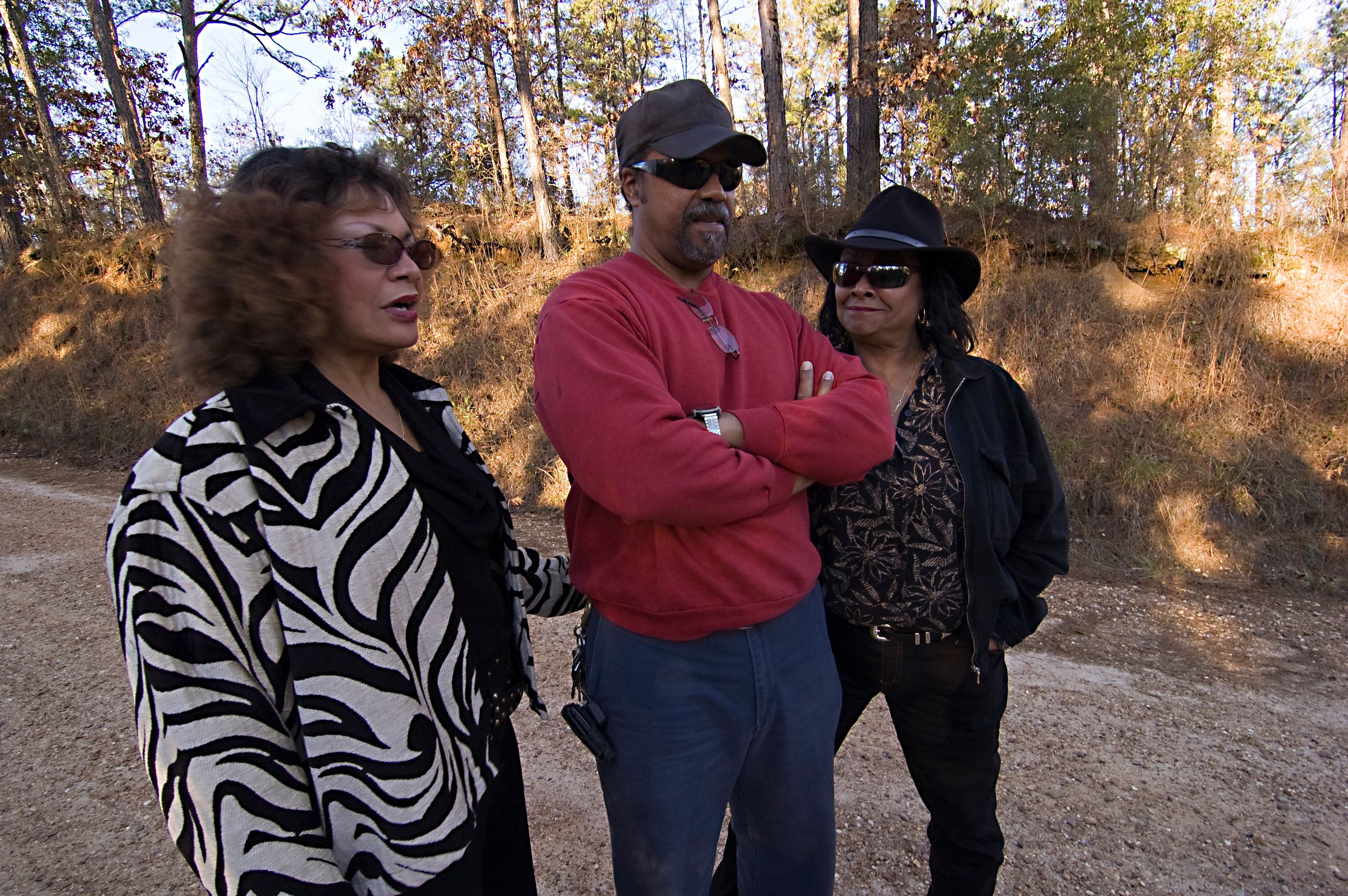 From left to right, Shirley Walker Wright, Clifton Walker, Jr. and Catherine Walker Jones stand in the middle of Poor House Road, where their father was murdered in 1964. Photo by Ben Greenberg
Near midnight on February 28, 1964, a mob of whites ambushed Clifton Earl Walker, Jr. on a dirt road in Southwest Mississippi. They stopped his car, gathered around it with shotguns and fired in at close range. It was possibly the first organized lynching of a Black man by the Mississippi White Knights of the Ku Klux Klan. No arrests have ever been made. The murder could still be solved.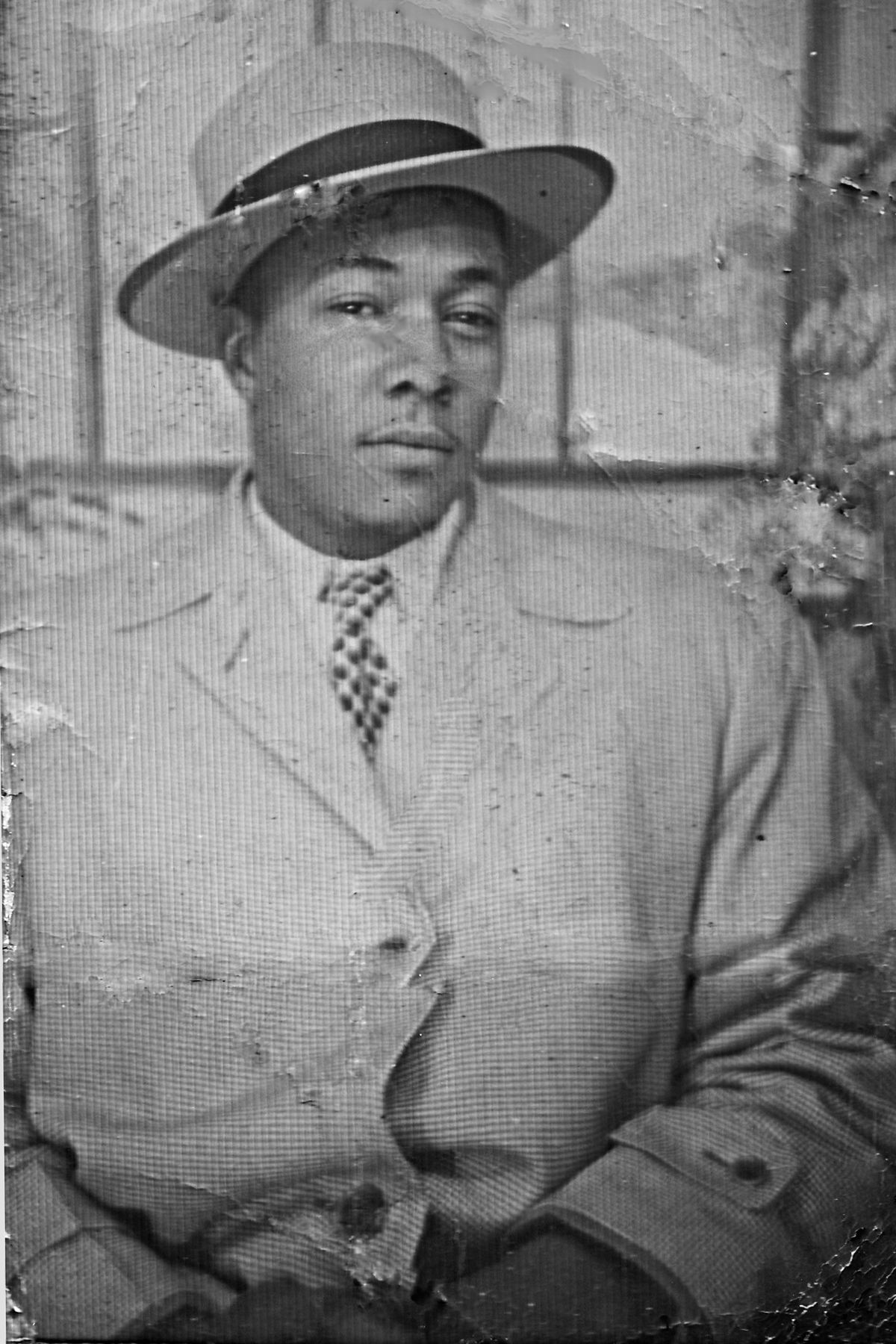 Clifton Walker. Photo courtesy of Catherine Walker Jones
It is hard to overstate the viciousness of the white killing frenzy. They shot out all of the windows in Walker's car. Multiple bullet holes were observed in at least one door. The steering wheel was shot off. Walker's face was blown apart. "I can remember running under the tape, looking at the car," after the body was removed, said Walker's daughter Catherine. "The carpet was saturated with blood…. They removed me from under there, and everything else was just a blur." She was 14.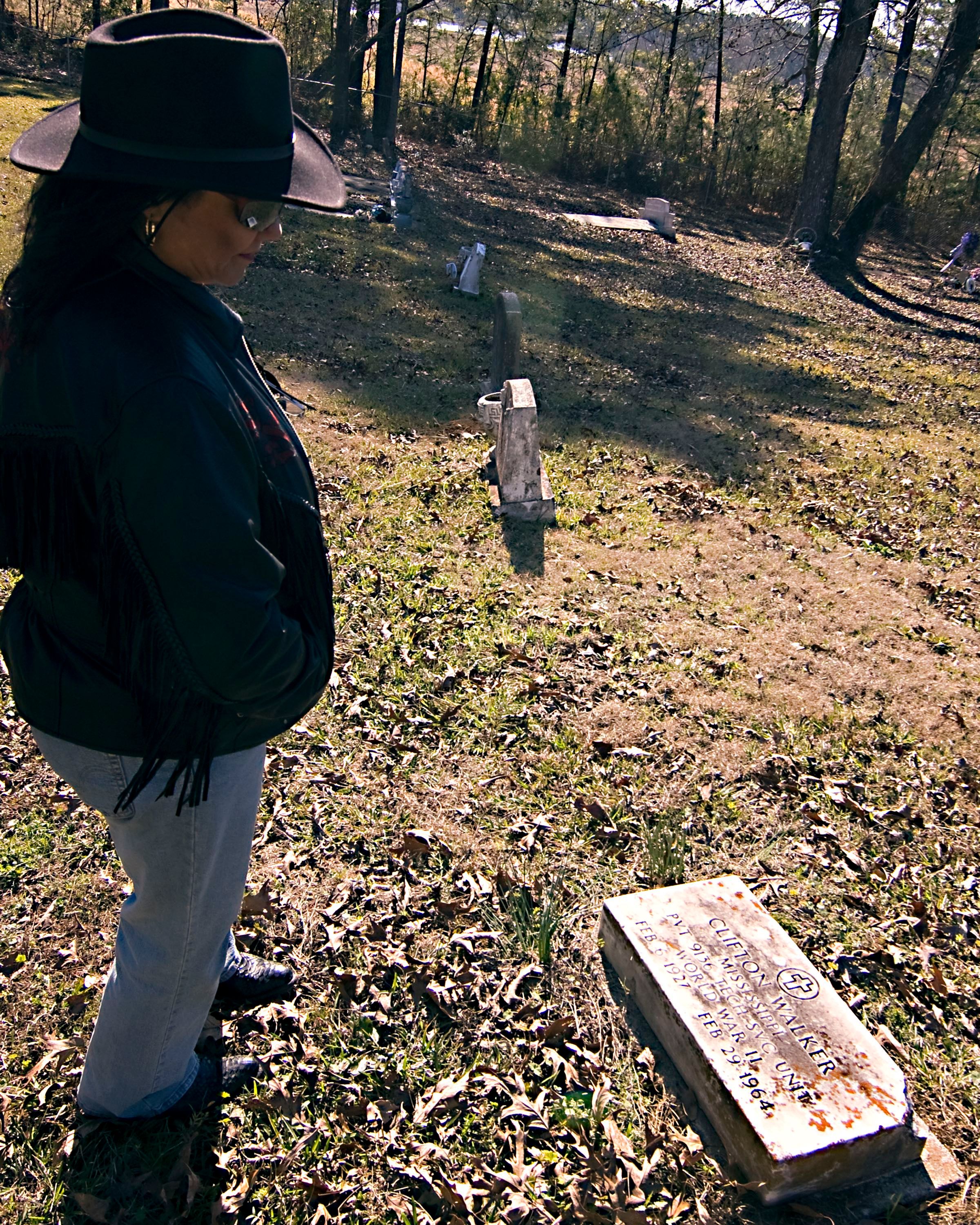 Catherine Walker stands looking at her father's grave, outside Woodville, Miss. Photo by Ben Greenberg
The Mississippi Highway Patrol wanted to arrest two suspects in 1964, but the DA would not charge them. The FBI was also investigating—but by the end of the year state and federal authorities both dropped the case. In 2009, the Department Of Justice returned to the case as part of a federal effort to grapple with America's legacy of racist killings through the Emmett Till Unsolved Civil Rights Crime Act.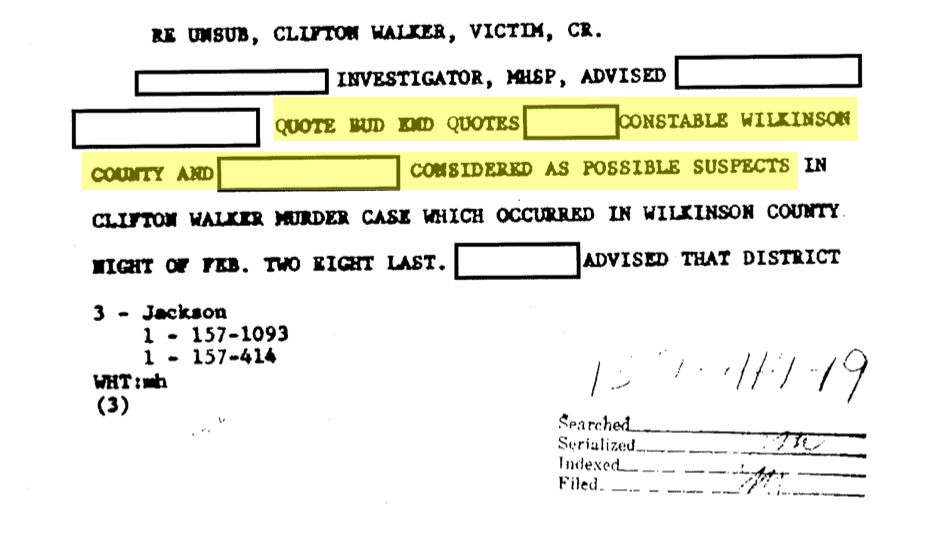 A page from the 1964 FBI file on the Clifton Walker murder, obtained by a Freedom of Information Act request. A Mississippi Highway and Safety Patrol investigator had identified two possible suspects for the District Attorney to arrest. FBI documents also show that the DA said he had "insufficient evidence" to charge the suspects.
The Emmett Till Unsolved Civil Rights Crime Act (PDF) was authored by US Representative John Lewis. To date, the FBI has examined cases of 151 victims of racist crimes. And the Justice Department has closed at least 128 of these cases without a single prosecution.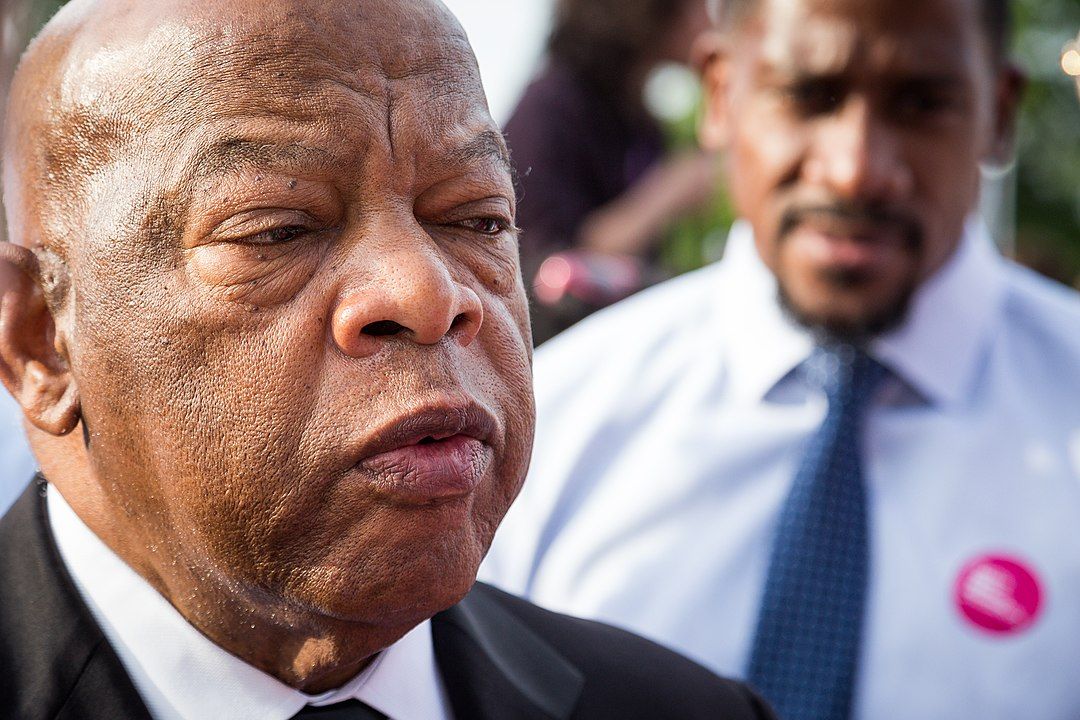 US Representative John Lewis at a 2017 rally at the U.S. Capitol to defend the Affordable Care Act.Photo by Mobilus In Mobili (WikiCommons)
The same year the FBI returned to the case, in 2009, I spoke to Rex Armistead—a retired Mississippi Highway Patrolman who led the state investigation in 1964. He told me the case could still be solved. He named a woman who had "all the information." In 1964, at 21, she was the girlfriend of a notoriously violent Klansman named Ed Fuller, one of the men Armistead wanted to arrest. Fuller was long dead, but "she's got all I think anybody would need," Armistead said, and could easily still be alive.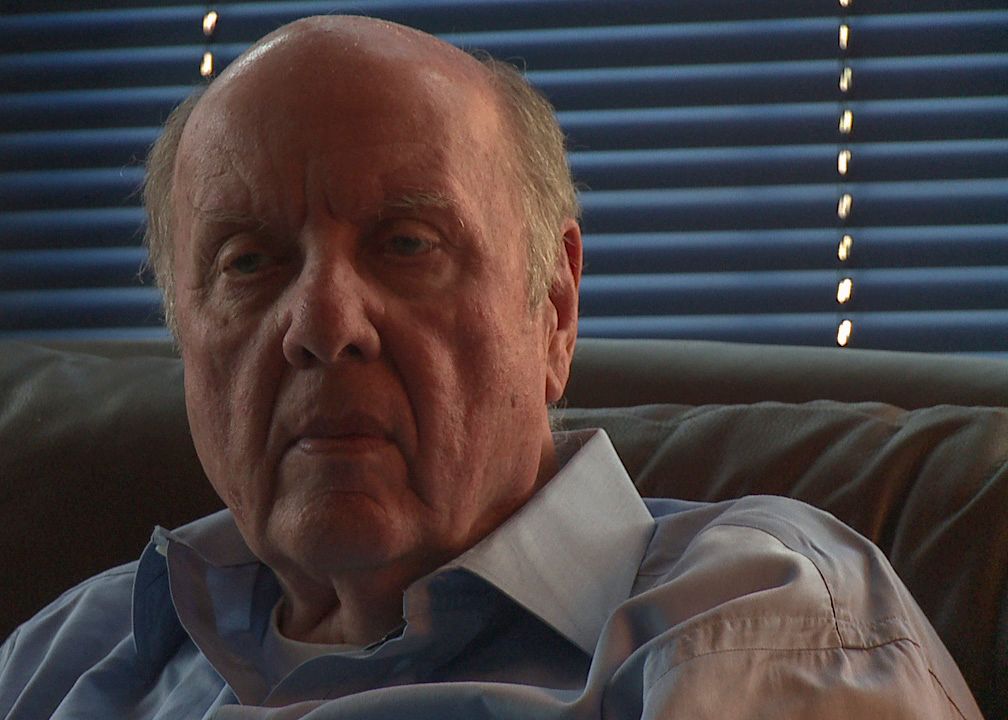 Former Mississippi Highway Patrol investigator Rex Armistead in his Lula, Miss. home. Video still by Pete Nicks
Two years later, in 2011, I spoke on the phone with a Black man named Richard Joe Butler. On April 5, 1964, he was shot 3-4 times by a gang of hooded white men on the farm where he was a laborer, just 25 miles north of where Walker was murdered. Ed Fuller was also allegedly one of the men who shot Butler. In 2011, there were two other suspects in the Butler shooting who were still alive. One of them died in 2014, but the other is still alive in eastern Louisiana at 89.
Another lead involved a Black woman, named Mary Emma Sims (aka Emma Beasely). According to 1964 Highway Patrol documents, "she has knowledge of certain facts that would aid greatly in breaking this case." I interviewed Sims twice in her Centreville, Miss. home. She was fearful and did not open up, even when Walker's daughter Catherine was with me on the second interview. Sims died in 2013 and took whatever she knew about the murder to her grave.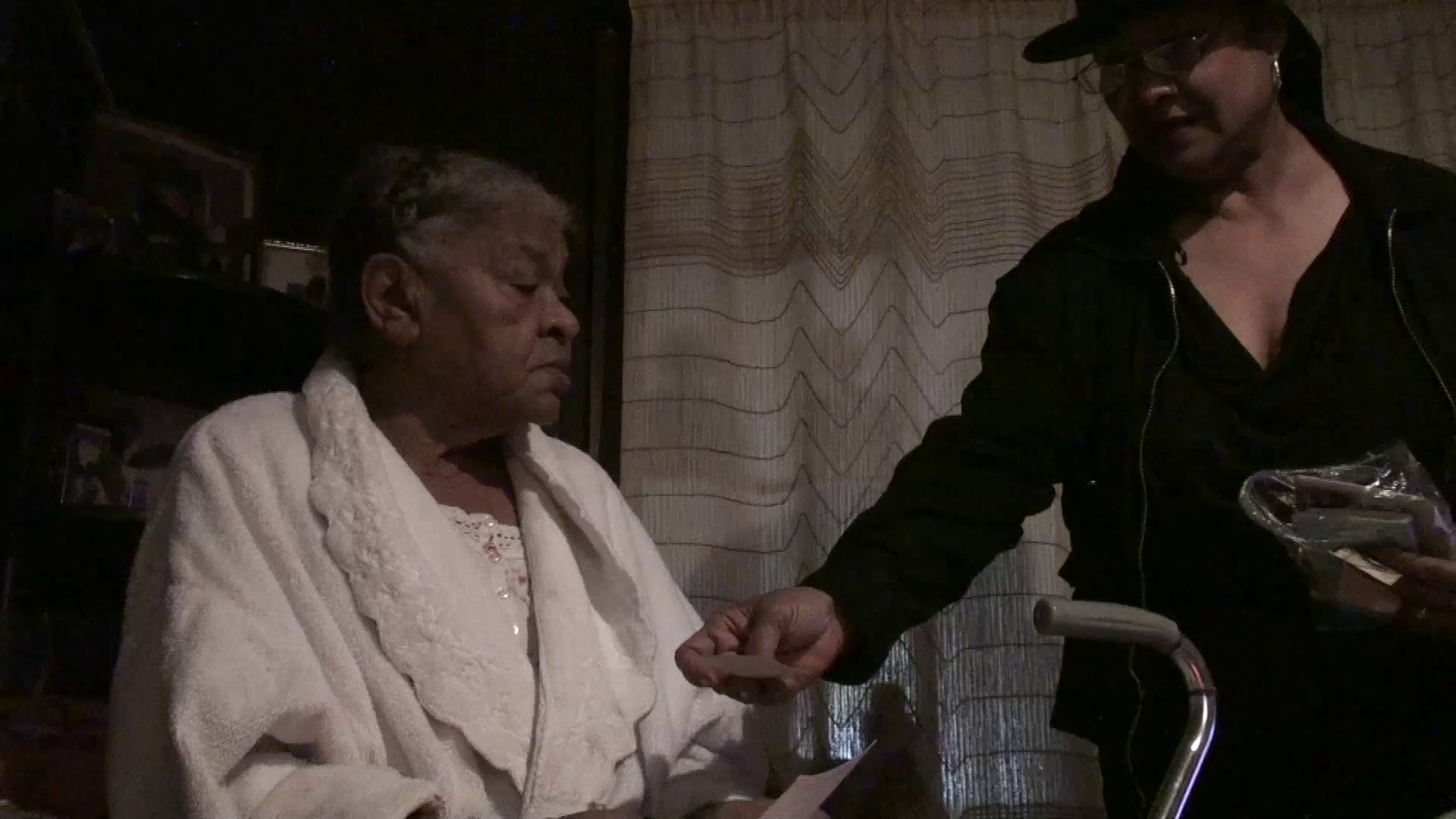 Emma Sims (left) seated in her home in Centreville, Miss. Catherine Walker Jones holds out a wallet sized photo of her father, as she asks Sims what she knows about the murder. Photo by Ben Greenberg
I had begun hearing from FBI agents assigned to re-investigate the Walker case in 2010. In 2011, I got a call from SA Bradley Hentchel, who was the third agent on the case since 2009. Hentchel wanted me to give him Emma Sims and my reporting notes, which included unpublished leads. When I refused, Hentschel told me it would be my fault if Justice Department closed the case.
"I do not want to close this case," Hentschel said, "but if I can't develop any further leads… it's going to be a hard sell to the DOJ, to even my supervisor, that I need to be running around two, two and a half hours away from the [Jackson] office with the gas budget the way that it is and everything else, beating down leads on this case or on any other case where we don't have any active information coming in."
The Justice Department closed the Walker murder in 2013. Judging from the department's closing memo on the case, the FBI did not try to Ed Fuller's girlfriend. They did not speak with the known living suspects in the Butler case who could be directly implicated in or have knowledge of the Walker murder. The bureau also ignored a number of other significant leads that I reported on while the Walker case was still under review and in the years since it was closed again.
When I first started hearing from the FBI in 2010, it was just five days after I reported on my blog that the Walkers had not been contacted as part of the investigation. The agent on the phone asked me to help him set up a meeting with the family. But before the meeting could be arranged, he was transferred off the case, and Hentschel was brought on. Hentschel said he wanted "a substantive meeting with the family." But the first time the Walkers heard from the FBI was in November 2013, when an agent appeared at Catherine's home to hand deliver a letter from the Justice Department, notifying her that the case was again closed.
"To get that letter in November, on my mother's birthday, November 21, 2013, to get that letter saying they closed the case, that was really a blow," Catherine said. "They only reported what was already done. There was nothing new."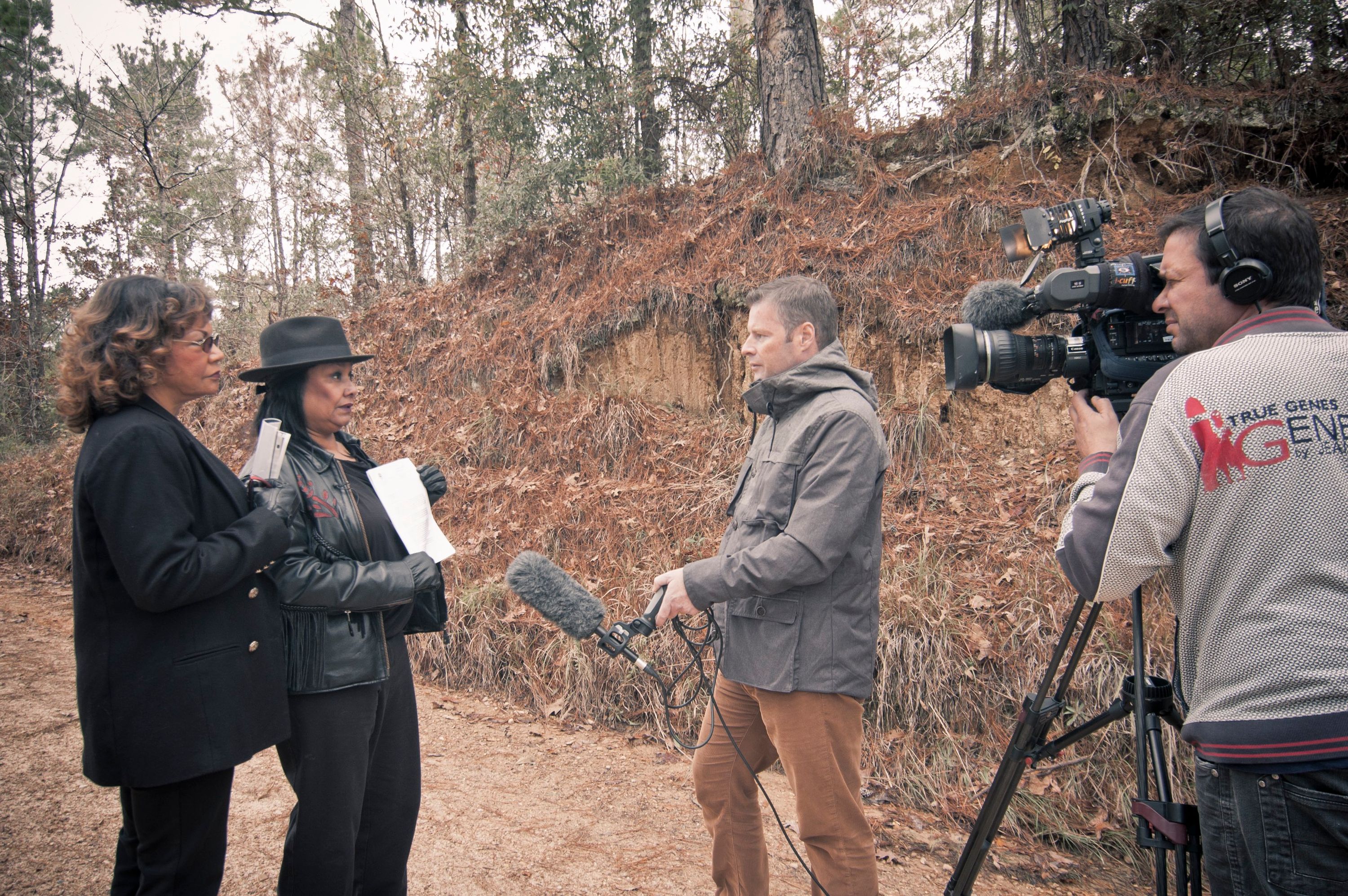 Shirley Walker Wright (left) and Catherine Walker Jones (right) stand together for interview by Al Jazeera America at the murder scene on Poor House Road. Photo by Ben Greenberg
The next month, Catherine and two of her siblings, Shirley and Clifton, Jr., joined me back at the murder scene for an interview with Al Jazeera America. "We lost our father here. Our mother lost her husband here," Catherine said, looking into the camera. "This place where Daddy was murdered has held all the secrets. Daddy, we are still seeking the truth. We want the world to know we will never stop."
Learn more
Clifton Walker murder
Attempted murder of Richard Joe Butler
The Emmett Till Unsolved Civil Rights Crime Act
February 28, 2023 cold case clifton walker fbi doj richard joe butler natchez woodville mississippi
I'm pretty happy with how my Mastodon posts get sent to my #blog via #IFTTT and #RSS. The one last thing I'm trying to resolve is getting the right timestamp to appear as the post's filename in #dropbox. This involves a code filter on IFTTT and me pretending I know anything about #java.
-xpost
It's been years since I've spent this much time messing around with my social media presence and nerdy internet tools. I guess that says something for Mastodon.
-xpost
Person of interest in Clifton Walker murder dies 58 years later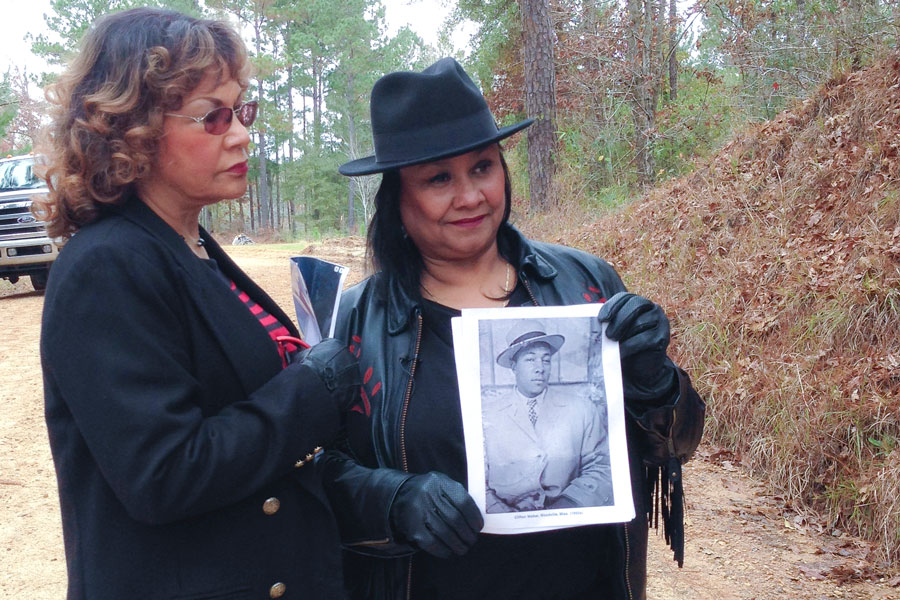 Catherine Walker Jones and Shirley Walker Wright hold a picture of their father, Clifton Walker, and stand on Poor House Road, where he was killed. Photo by Ben Greenberg
58 years ago today, on February 28, 1964, a white mob ambushed and murdered Clifton Earl Walker, Sr. on Poor House Road, outside Woodville, Miss.
The murder is thought to be the first organized shooting of an African American by members of the then newly formed Mississippi White Knights of the Ku Klux Klan. Walker was 37 years old. He and his wife, Ruby Phipps Walker, had five children: Rubystein, Catherine, Shirley, Clifton Jr. and Brenda. The Justice Department re-opened the case in 2009 and closed the case again in October of 2013, though the FBI left many leads unexplored.
In 2016, I published information about two living persons of interest who could be suspects in the murder or have close knowledge of it. According to public records, one of the two men, a white co-worker of Walker's at the International Paper Plant in Natchez, died last month, on January 31, at 82, in Hattiesburg, Miss. The other man is still living at 88 years old in eastern Louisiana, according to public records. Both men escaped punishment for their alleged participation in the attempted murder of another Black man, named Richard Joe Butler, near Natchez, Miss., 6 weeks after Walker was murdered. Neither of the two men was interviewed by the FBI before the Justice Department closed the case in 2013.
Born in 1927 in Woodville, Miss., Clifton Walker was the last of nine children. Despite being the youngest, his siblings respected him. When he saw them arguing with their wives, he would "pull his brothers on the side and tell them you don't talk to your wife that way," Catherine once told me. "He was such a gentleman." His family called him "Man," and the nickname stuck.
One Sunday in 1943, walking home from Sunday school, he met Ruby C. Phipps. Two years later, they married, and "the young couple made a beautiful set," she later wrote.
Some justice might still be possible for Man Walker. Ruby, died in 1992 and did not live see it. I hope his children still may.
February 28, 2022 cold case clifton walker fbi doj richard joe butler natchez woodville mississippi
Supreme Court Upholds Ohio's Purge of Voting Rolls (New York Times)
A Reuters study in 2016 found that at least 144,000 people were removed from the voting rolls in recent years in Ohio's three largest counties, which are home to Cleveland, Cincinnati and Columbus.

"Voters have been struck from the rolls in Democratic-leaning neighborhoods at roughly twice the rate as in Republican neighborhoods," the study found. "Neighborhoods that have a high proportion of poor, African-American residents are hit the hardest."…

The Justice Department for decades took the position that failing to vote should not lead to disenfranchisement….

After the last presidential election, the department switched sides in the case, Husted v. A. Philip Randolph Institute, No. 16-980.
Finding Truth in Police Killings of Young Black Men
I had the honor of speaking in March at the Charles Hamilton Houston Institute for Race and Justice on the police killings of Army Cpl. Roman Ducksworth, Jr. in 1962 and Michael Brown, Jr. in 2014. The video of the talk is now online.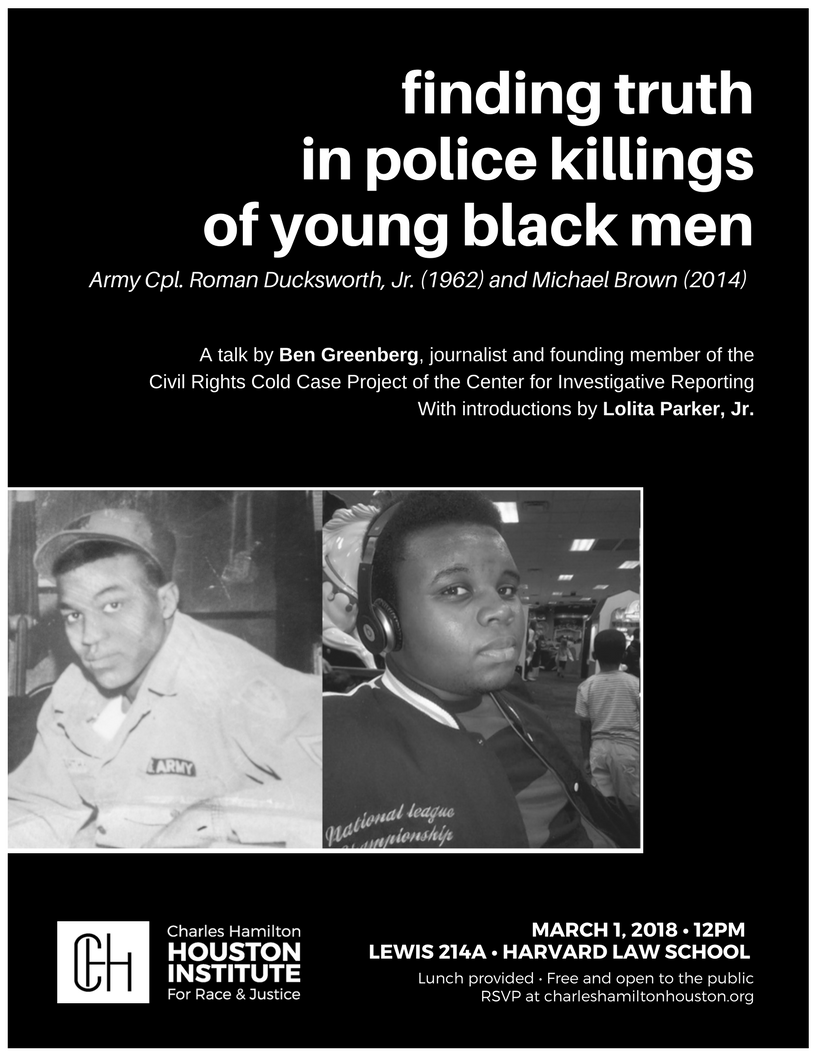 May 3, 2018 roman ducksworth michael brown police brutality taylorsville mississippi ferguson missouri charles hamilton houston institute harvard law school cold case fbi doj naacp splc
Oakland passes groundbreaking municipal law requiring citizen oversight of local surveillance / Boing Boing
Oakland City Council unanimously passed the city's "Rules for Surveillance", the country's most stringent police surveillance oversight law.
The law provides for a "Privacy Advisory Commission" and directs police to produce an annual report with fine-grained details of how surveillance technology was used. The Privacy Advisory Commission must be notified any time the city and its police seek funding or appropriations to procure any new surveillance technology. The city is also barred from entering into nondisclosure agreements with surveillance technology providers that would impair this transparency – a key provision, doubtless inspired by the Harris Corporation's practice of binding police departments to secrecy over its Stingray cellphone spying devices, a bizarre attempt to thwart transparency that culminated with Federal agents raiding local police departments to seize evidence before it could be introduced in open court, which would have revealed the existence and characteristics of Stingray devices.
New Federal Prison Policies May Put Books and Email on Ice (In Justice Today)
Now, prisoners instead will have to submit a request to purchase books — a limit of five per order — through an ordering system in which they must pay exorbitant prices and don't have the option to buy cheaper used paperbacks. In addition, prisoners must pay a 30 percent tax plus shipping cost, according to prisoners and memos distributed in at least three BOP facilities. Under the new protocol, a book purchased from Amazon for as little as $11.76, with shipping included, could cost more than $26….
"An inmate's contact list may not possess another inmate's immediate family member, friend, or contact located on the inmate's approved list,"… adding it will make exceptions for "attorneys, clerks of the court, and other contacts approved on a case-by-case basis."…
Advocates say that the rule will cut off prisoners from communicating with advocates, pen pals, family members, friends, and journalists who are in touch with multiple prisoners in one facility.
"This will prevent us from assisting prisoners or learning about the very abuses we are discussing now," Povah said. "It's as if they want to cut prisoners off from the outside world altogether."
benlog