Eluvium, Prelude for Time Feelers
If I did this right, this post to benlog.net will also hit my microblog (micro.blog/minorjive) and my Twitter and Facebook feeds.
The Pain Of Police Killings Can Last Decades
I have a piece over at NPR Code Switch today, about the 1962 police slaying of black Army Cpl. Roman Ducksworth, Jr. in Taylorsville, Miss.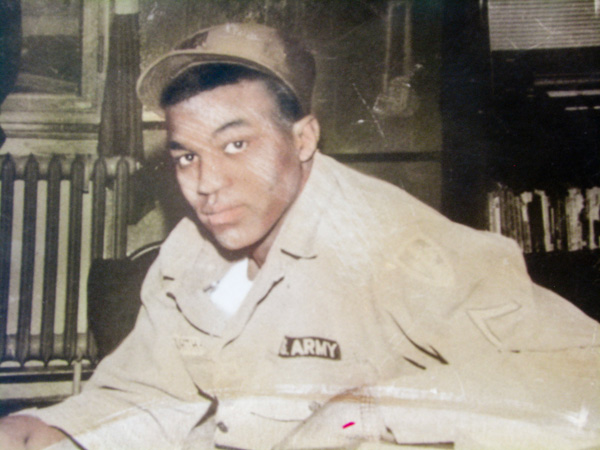 Roman Ducksworth in uniform. The Army Corporal was shot to death by a white Mississippi police officer in 1962. (Courtesy of Cordero Ducksworth and the Syracuse Cold Case Justice Initiative)
My article tells the story of the slaying and of its lasting effects on Ducksworth's now deceased widow, Melva Ducksworth, on their eldest son Cordero, age 59, and on his cousin Odell, age 78:
In recent months, the nation has witnessed how questionable police shootings of African Americans can spark anger and unrest across a community. But long after the demonstrations end, the streets go quiet and the cameras leave, families of those killed have to find ways to cope with their loss. And that's a private struggle that can last for decades and across generations.

Cordero Ducksworth has lived that struggle. He was 5 years old in 1962, when his father, Army Corporal Roman Ducksworth, Jr., was shot to death by William Kelly, a white Taylorsville, Miss. police officer.
Cordero Ducksworth, April 2010 at the Syracuse University Cold Case Justice Initiative's It's Never Too Late for Justice conference. (Photo credit: Syracuse University Cold Case Justice Initiative)
Ducksworth was stationed at Fort Ritchie, Md. in the spring of 1962 when he was traveling home by bus. His wife Melva was at a local hospital due to severe complications late in her pregnancy with their sixth child.

By the time the bus arrived on the night of April 9, Roman had fallen asleep and the driver called Officer William Kelly onto the bus to rouse him. Kelly instead arrested the serviceman for drunkenness, and directed him to a patrol car across the street.

That's when things became violent. Once Ducksworth and Kelly were off the bus, they started to tussle, and the officer drew his gun and fired twice — once into the ground and once through Ducksworth's chest. Corporal Roman Ducksworth, Jr., was pronounced dead on the scene. He was just 27 years old.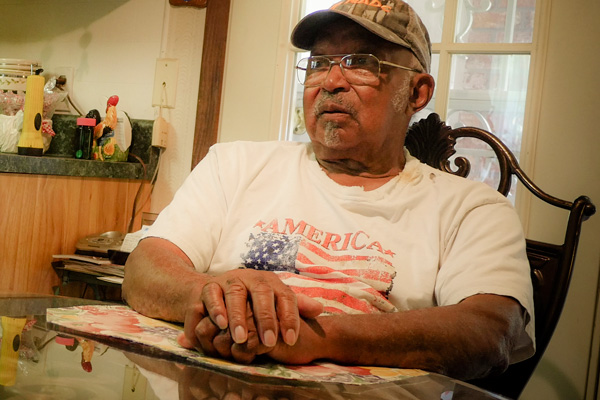 Odell Ducksworth, Heidelberg, Miss., June 20, 2016. He held his dying uncle, Roman Ducksworth, moments after the shooting. (Photo credit: Ben Greenberg)
Roman's sister-in-law, Vera Ducksworth, and her son Odell had been at the station to pick him up. Instead, Odell held his uncle in the street as he died. The crowd dispersed, leaving Odell and Vera to watch over Roman's body until an ambulance from a local black funeral home could get there. Roman died without knowing that Melva had given birth to a healthy baby girl.
Read the rest at Code Switch.
August 25, 2016 roman ducksworth mississippi emmett till unsolved civil rights crime act cold case fbi doj police brutality southern poverty law center
Red White and Black and Blue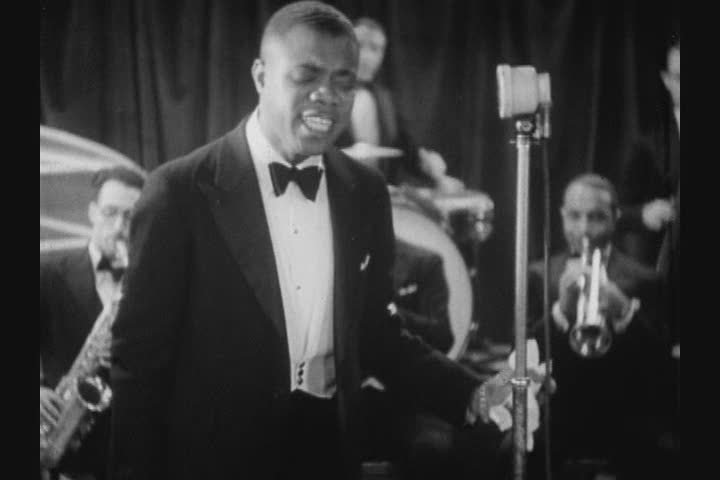 Still from 1933 film of Louis Armstrong in Copenhagen, Denmark.
Now I have one radio-phonograph; I plan to have five. There is a certain acoustical deadness in my hole, and when I have music I want to feel its vibration, not only with my ear but with my whole body. I'd like to hear five recordings of Louis Armstrong playing and singing "What Did I Do to Be so Black and Blue"—all at the same time. Sometimes now I listen to Louis while I have my favorite desert of vanilla ice cream and sloe gin. I pour the red liquid over the white mound, watching it glisten and the vapor rising as Louis bends that military instrument into a beam of lyrical sound. Perhaps I like Louis Armstrong because he made poetry out of being invisible. I think it must be because he's unaware that he is invisible. And my own grasp of invisibility aids me to understand his music. Once when I asked for a cigarette, some jokers gave me a reefer, which I lighted when I got home and sat listening to my phonograph. It was a strange evening. Invisibility, let me explain, gives one a slightly different sense of time, you're never quite on the beat. Sometimes you're ahead and sometimes you're behind. Instead of the swift and imperceptible flowing of time, you are aware of its nodes, those points where time stands still or from which it leaps ahead. And you slip into the breaks and look around. That's what you hear vaguely in Louis' music. (Ralph Ellison, Invisible Man)
Louis Armstrong always said he was born this day, so I like to take the 4th as a day to honor him.
My love of Louis' music is something I inherited from my dad.
There was an AM station in Albany, New York that played the jazz of the 20s, 30s and 40s that Dad grew up on. When I was a kid and we went places in the car, I usually took control of the radio to hear the classic rock or top 40 stations. But sometimes Dad would have us listen to the jazz station.
It all sounded the same to me then, but he'd call out the artists and song titles as soon as a song came on, and then he'd start telling me about who the drummer was or the clarinet or trumpet or bass player. I couldn't keep straight who any of them were, but the names became familiar, Cozy Cole, Fats Waller, Sara Vaughn, Pee Wee Russell, Coleman Hawkins, Ella Fitzgerald, Bix Beiderbecke , Billie Holiday …
Later on, in my mid-twenties, when I was a little more open to learning about some of the things that were important to Dad, he would occasionally buy me jazz recordings whose greatness he wanted me know. We'd be out somewhere, and I'd lobby to stop in at a record store. I'd head off to the rock titles and he'd browse the jazz. And then he'd be at my elbow, holding Miles' "Sketches of Spain." Did I know about this one? Would I like to have it? Um, sure Dad . . . Or the Billie Holiday Commodore Master Takes or The Benny Goodman Sextet, featuring Charlie Christian or Lionel Hampton's small group recordings.
Or Satch Plays Fats.
Now to my dad, just the fact that Satchmo Armstrong made an album interpreting his favorite titles by one of the other great jazz virtuosos from his generation, Fats Waller, was enough for this to be a momentous event in my musical education. Even then, the clear highlight of this, to me, uneven record was Louis' performance of "(What Did I Do To Be So) Black and Blue."
Not much more to say about it than Ellison did. Sloe gin over vanilla ice cream. Sloe gin, that liqueur made from blackthorn plums—a densely spiny shrub with succulent fruit far too bitter for human consumption, except as flavoring. The 1955 recording is emotional and elegant, a glistening timeless object with vapor ever rising off its surfaces.
I've since learned to like even better Armstrong's 1929 recording of "Black and Blue," which must be the one Ellison was writing about in Invisible Man, since the novel was published in 1952, before Satch Plays Fats.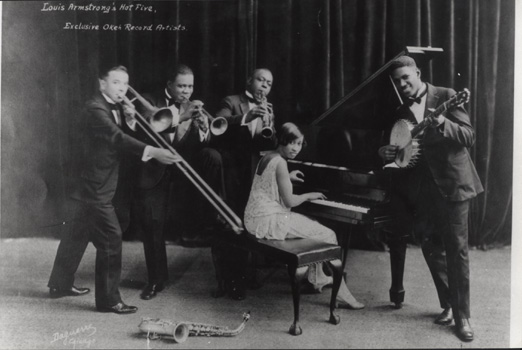 Louis Armstrong and his Hot Five
With its tinkly piano and a band nowhere near the caliber of Armstrong's later All-Stars, the earlier version of the song sounds dated, the performance slightly mechanical and melodramatic, the swing less pronounced. But against that unremarkable backdrop, comes Louis' voice—his breath pushing through the words while he bites off the ends of phrases.
Louis stylizes this sound in the 1930s, his voice giving melodrama and camp a brooding edge and energy uncontainable.
(This post has been adapted from a longer post about my father and his musical heroes, written on my earlier blog, Hungry Blues.)
July 4, 2016 louis armstrong 4th of july music jazz paul greenberg ralph ellison
Congress Responds to Concerns of Racial Murder Victims' Families with New Legislation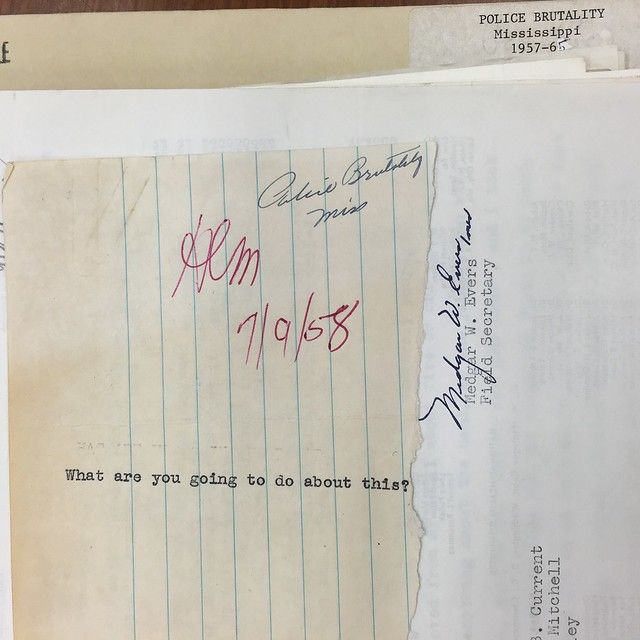 POlICE BRUTALITY Mississippi 1957-65, NAACP Records, Library of Congress
I received a statement and fact sheet from US Representative John Lewis announcing the introduction on Tuesday of the Emmett Till Unsolved Civil Rights Crimes Reauthorization Act.
Congress passed the original Emmett Till Unsolved Civil Rights Crime Act legislation in 2007 to bring about a "sustained, well-coordinated, and well-funded effort to investigate and prosecute racially motivated murders that occurred on or before December 31, 1969." In 2008 the Department of Justice reopened 113 race-related murder investigations of civil rights workers and ordinary people. By the Justice Department's most recent report to Congress (PDF), all but 8 cases have now been closed–without a single prosecution. Since the legislation was signed into law in 2008, victims' family members have questioned the Justice Department's seriousness about identifying cases, resolving them and providing adequate information to victims' families about what happened to their loved ones.
Now acknowledging that there were "gaps" in the Till Act, a bipartisan, bicameral coalition has introduced the Emmett Till Unsolved Civil Rights Crimes Reauthorization Act of 2016.
This bill reauthorizes and updates the original legislation that was signed into law in 2008. It seeks to respond to the concerns of victims' family members and strengthen collaboration between the Justice Department, the FBI, State and local law enforcement, and advocates to pursue these cold cases.
The House (H.R.5067) bill is led by Rep. John Lewis (D-GA), Rep. Jim Sensenbrenner (R-WI) and Rep. John Conyers (D-MI). The Senate (S.2854) companion is introduced by Sen. Richard Burr (R-NC), Sen. Patrick Leahy (D-VT), Sen. Claire McCaskill, (D-MO), and Sen. Roy Blunt (R-MO).
"We have an obligation, a mission, and a mandate to continue the effort required to wash away these stains on our democracy," said Representative Lewis. "I am glad to say this bill incorporates the advice and counsel of numerous individuals and groups who are also dedicated to the pursuit of justice in these matters. Their tireless efforts have helped us improve this legislation so that more work can be done to end the pain, doubt and the inconsistent application of justice that has languished unattended for decades."
According to Lewis' statement, the new legislation:
Provides clearer direction and improved coordination between federal, state, and local law enforcement and the activists, advocates, and academics working on these issues;
Establishes a public-private joint taskforce to coordinate the investigations;
Strengthens the Department of Justice's reporting requirements;
Eliminates the pre-1969 time limitation on investigations;
Eliminates the sunset provision in the original bill;
Requires the Department of Justice to review specific closed cases that warrant further investigation;
Maintains the previous funding levels;
Establishes the process to reopen, review, and update the public on the cases previously closed and explain the outcome of cases referred to the Department of the Justice; and
Clarifies the law's intent.
Over the last eight years, reporters and advocates have identified problems of coordination among officials, poor reporting of investigative results and a lack of clarity regarding the the intent of the Till Act.
In 2011, for example, an FBI agent pressed me to violate journalistic ethics and expose my sources and turnover my unpublished notes.
"I do not want to close this case," [Special Agent Bradley] Hentschel said during a telephone interview in 2011, "but if I can't develop any further leads…it's going to be a hard sell to the DOJ, to even my supervisor, that I need to be running around two, two and a half hours away from the office with the gas budget the way that it is and everything else, beating down leads on this case or on any other case where we don't have any active information coming in."
Stanley Nelson, editor of the Concordia Sentinel in Ferriday, Louisiana, found that the FBI ignored sources who came forward.
"I had individuals tell me that they contacted the FBI to tell what they knew about these cold cases, but that the bureau showed little or no interest in what they had to offer," Nelson said. "In some cases, the caller was asked if he or she could provide 'probative' information — did they have evidence as to who killed who? That's a ridiculous approach. You have to look for 'pieces' of the story rather than the one caller or witness who has all the answers."

Nelson came to realize that the FBI agents could only do as much as their superiors in the Justice Department directed them to do. "Had a handful of agents working in the field been given the time and tools to do nothing but work on these cases, then they would have accomplished much more," he said.
In 2012, the Syracuse University Cold Case Justice Initiative provided the Justice Department with names of 196 victims of racially suspicious cases warranting further investigation. None of the additional names have been added to the Department's list of cases under review.
Lewis says the reauthorization "seeks to respond to the concerns of advocates regarding the implementation of the original legislation." I hope it will be passed quickly and with the full force of its current intent.
There is still time to do better–but not much.
April 27, 2016 john lewis emmett till unsolved civil rights crimes act cold case legislation
Lola
(Note: On the occasion of Billie Holiday's 100th birthday, I present this short story by my father. In his 30s and then in his 60s, my father made some forays into autobiographical writing. I've published other pieces previously, on my other blog. This story, set in the mid-1940s, was written around 1993. My father prefaced a collection of this and other pieces with a disclaimer: "The characters and events in these stories are imagined from memory. Any resemblance between these characters and real people is purely intentional, otherwise what is the point?" —BG)
by Paul A. Greenberg
Lola Hart lived in the Longwood section of town. Like her own prim appearance the apartment was neat and proper but spoke of no particular taste. She had found her way into the Boston jazz culture through her relationship with John Garrity. She adored him and he neither encouraged nor discouraged her. John was rich and radical and despised his family's considerable real estate power. He did like to use the family money on those infrequent occasions when he could get his hands on it. I could accurately predict the current state of their relationship by the way Lola dressed. If John was around she wore dresses. When he was chasing some new romance she reverted to prim library skirts.
Lola was our crowd's arbiter of disputes over words and facts. Her head seemed to be as full of information as the library was of books. In both cases there was no connection between any two items. They were just there on call. Once when Hennie and I were having a dispute over the meaning of the word "habitat" we called Lola at the library desk and asked her to use the word in a sentence. She replied, "there is nothing so natural as a habitat."
I was Lola's jazz instructor. She would invite me over for dinner usually when she wasn't seeing John. I would bring records and attempt to explain the music. Mainly I just rhapsodized about my favorites. Between records and my word solos she would pour out her frustrations with John. We were on independent tracks. She would tell about her inability to tell John her feelings and I would tell that I dreamed I was Billie Holiday's "Fine And Mellow" man.
Our tracks crossed only twice.
Early in her entry into our crowd, I was playing Jack Teagarden's "Texas Tea Party" for her.
She asked the significance of "Tea Party." I started to intellectualize the "significance" of marijuana in jazz culture and she started to giggle. When I tried to ask her what was funny, she fell into fits of laughter. And then we both laughed and laughed until we were gasping for breath.
Lola told of a party at John's apartment. She was feeling hostess-like and had served beers and was making sandwiches when John asked her if she had seen the tea. She proceeded to look in every possible cabinet and drawer in the kitchen finding no pekoe nor other varieties of steeping beverage. Meanwhile John was getting more frantic and was looking under the living room couch pillows. By the time he looked in the globe of a lamp she castigated him for not keeping food in the kitchen where it belonged. She only now understood he was seeking a stash of pot.
A year later I was playing Billie Holiday for her. Her taste was more sophisticated and her pain over her relationship with John was showing in her eyes. They had recently gone to New Orleans for a week together. The by now usual pattern unfolded. The week had been bliss. They were close and everything took on the aura that lovers manufacture. She had not heard from him since they returned. I didn't know how to help her so I played a record.
My choice was Billie Holiday's "Fine And Mellow," intended to be soothing. As Billie sang lack of concern over her man's treatment of her because he physically loved her, Lola started to sob.
"Love is just like a faucet, it turns off and on," Billie sang. "Love is like a faucet, it turns off and on/ Sometimes when you think its on, baby, it has turned off and gone."
Lola's sobs were now paroxysms. I was paralyzed. Then I put my arm around her and comforted her. I sat quietly holding her for over an hour.
Then the phone rang. Lola asked me to answer. It was John and he wanted to come over. She said I should arrange for us to meet at the Savoy Café.
Afterwards, we stayed up to five in the morning listening to Frankie Newton. Lola was as outgoing as I had ever seen her and John was as quiet as I had ever seen him.
Two weeks later they married.
April 7, 2015 billie holiday jack teagarden frankie newton boston savoy cafe paul greenberg writings jazz music short story memoir
UN

Human Rights Council Reviews

US

Failings on Racial Murders from Civil Rights Era

On Thursday, the United Nations human rights council heard evidence concerning the US failure to investigate and punish racial murders from the 1940s, 50s and 60s. Al Jazeera America news anchor John Seigenthaler discussed the development with me on his Friday evening show.

According to The Guardian lawyers and human rights experts for the Syracuse University Cold Case Justice Initiative brought evidence that
the wave of racial violence that swept through the deep south in the 1940s, 50s and 60s has never been accounted for, despite a congressional law passed seven years ago that instructed the FBI to look again at the issue….

They will tell the UN – as part of the world body's review of the human rights record of the US that reaches a climax in May – that they have compiled a list of more than 300 suspicious killings that the FBI have not even recognized, let alone cleared up. By that calculation there have been hundreds, possibly thousands, of individual murderers who have killed in the name of white supremacy and enjoyed total impunity.

A small but unknown number of them are still alive and at large.

"The United States has never come to terms with accountability for the devastating loss of life during a time of domestic terrorism that continued in many forms after the legal end to slavery," the Syracuse team, led by professors Paula Johnson and Janis McDonald of the Cold Case Justice Initiative, will tell the UN.
The Guardian discussed the Justice Department failures with my Civil Rights Cold Case Project colleague Stanley Nelson:
Stanley Nelson, a reporter with the Concordia Sentinel in Louisiana, has spent more than seven years investigating racial violence in Concordia parish and across the state lines in Natchez, Mississippi. This area of the deep south was the epicenter of the violent white backlash in the civil rights era and was the home of the Silver Dollar Group, a vicious offshoot of the Ku Klux Klan.

Nelson said he had been "personally frustrated by the way in which the DoJ and the FBI have handled the new look into these cold crimes". Instead of setting up specialist teams of detectives and prosecutors that could focus their energies exclusively on trying to clear up unsolved murders, they left the investigations to regional FBI offices already busy with current criminal cases. As a result the attention given was patchy at best.

Nelson said it was a battle against the clock, as witnesses and suspects were steadily dying. "When I wrote about my first cold case in 2007 I started to keep an obituary file of individuals who had died – now it's an inch thick," he said.
March 28, 2015 united nations human rights council racial murders racial violence al jazeera america john seigenthaler fbi doj department of justice civil rights cold case project syracuse university cold case justice initiative stanley nelson media coverage cold case
benlog