On a Train through Hiroshima in 1951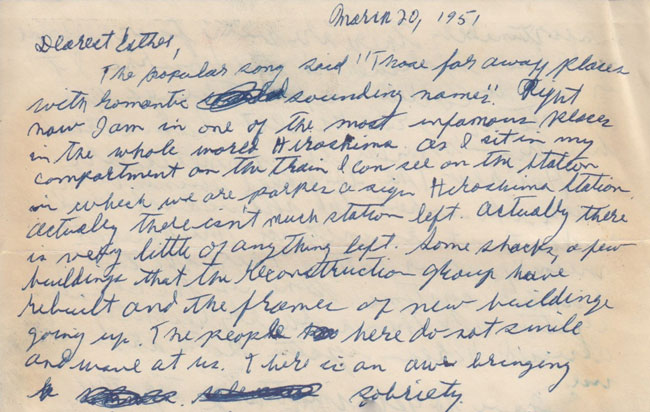 Letter from Paul Greenberg to Esther Greenberg, March 20, 1951 (excerpt)
My father had already seen months of combat in Korea by this March train ride through the Japanese countryside. Within a matter of days, as his letters reflect, he would be back to combat in Korea. I have not yet found a letter that gives context to this stint in Japan, to where he'd return in September, to recuperate from dysentery. 
In later years, my father recalled having a "profound religious experience" in Hiroshima during one of his stints in Japan during the Korean War:
In the Hiroshima Museum there is a wall, all that is left of a building destroyed by the bomb. On that wall is etched the shadow of human beings which is all that is left of them. It was there that I came to understand that the distinction between just and unjust wars was blurred and that human existence was at great risk and that only a spiritual revolution would be sufficient if humanity was going to survive.
Whether the recollection occurred on this or another wartime trip to Japan, it is chilling to imagine this train ride through Hiroshima in 1951.
March 20, 1951

Dearest Esther,

The popular song said "Those far away places with romantic sounding names." Right now I am in one of the most infamous places in the whole world Hiroshima. As I sit in my compartment on the train I can see on the station in which we are parked a sign Hiroshima Station. Actually there isn't much station left. Actually there is very little of anything left. Some shacks, a few buildings that the reconstruction group have rebuilt and the frames of new buildings going up. The people here do not smile and wave at us. There is an awe bringing sobriety.

As I travel along the Japanese countryside I see many schools. The people seem most industrious. Everyone seems busy all the time.

The list of subversive organizations here is tremendous. Everything from a communist party to the Green Dragons which is a super nationalist organization.

Letter from Paul Greenberg to Esther Greenberg, March 20, 1951 (excerpt)

You will have to pardon the writing. Japanese trains are old and rock worse than a ship in a storm.

I am studying the Korean language. A few of us with high IQs were given books on how to learn the basic phraseology of the Korean language. Unfortunately there are very few personal phrases included in the course. It is all so called useful things like directions, orders ect [sic]. I am struck by how similar the phonetics are to Hebrew. The language sounds very much like what the individual words indicate. For instance muyylegut [meoggi, 먹기] means "food" or eating. There are two number systems. One is the Chinese system and then a fairly recently devised Korean system. Both are in use.

I have to get my things together and get ready to change trains so I will finish here. Maybe the next letter will be smoother. I love you

Paul
---
---
Date
November 18, 2014
---
---