One Day before the March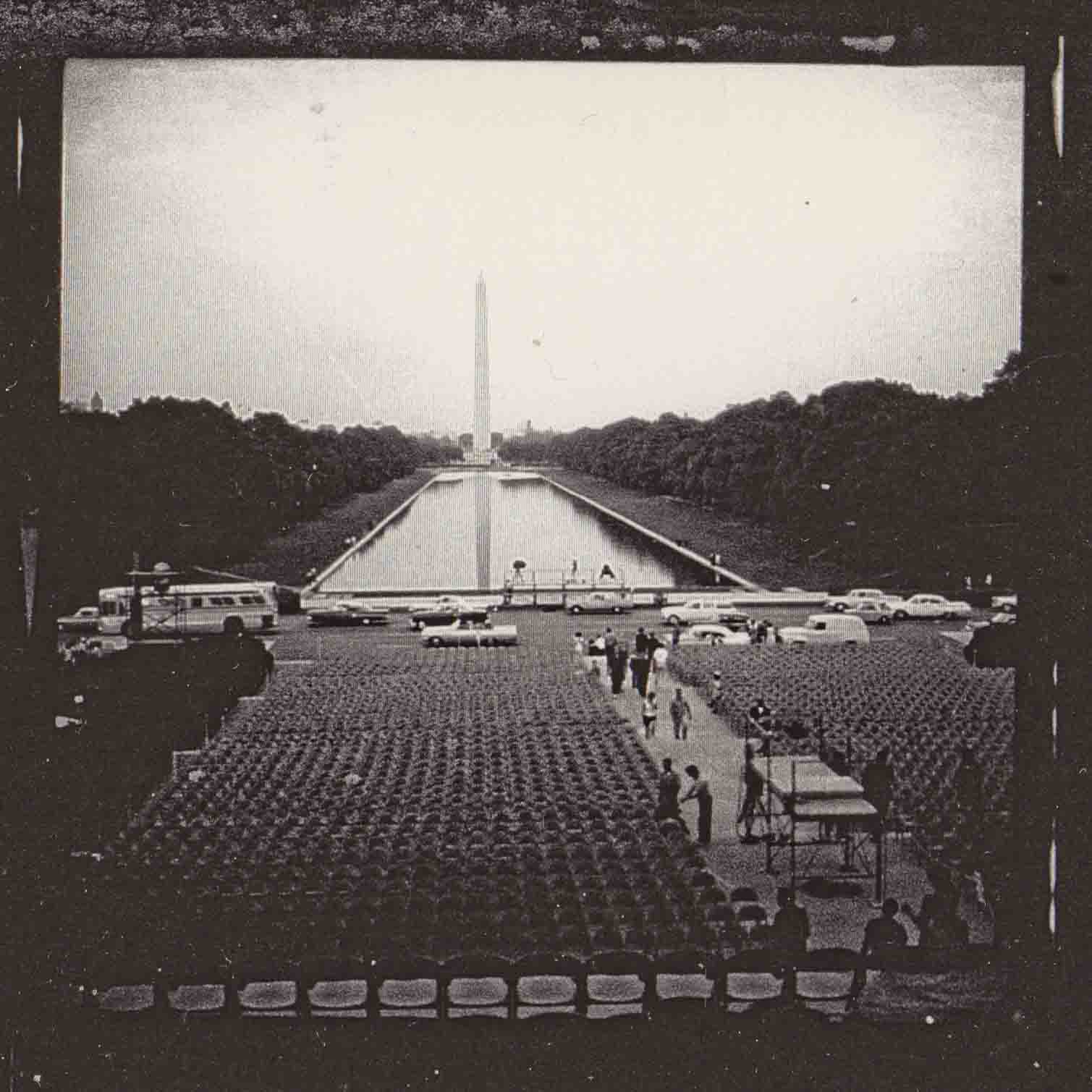 Seating for the March on Washington (Photo by Bob Adamenko)
My father's friend Bob Adamenko was on setup and security duty for the March on Washington in 1963. He took took this shot on August 27, 1963, from the Lincoln Memorial—showing the setting for the massive rally that was to occur there the next day.
I like looking at Bob's photo next to this more familiar one, which is almost the same composition but with the marchers added.
Washington marchers assembled for the rally at the Lincoln Memorial, August 28, 1963 (US Government photo)
Bob's photo is scanned from a contact sheet containing a half a dozen shots from DC, the day before the March. Bob sent the images to me in 2005, after he found my blog posts about Salute to Freedom Fundraiser, which my dad helped organize in Birmingham, AL to raise money to send locals to DC for the March.
"Ben, I came across Hungry Blues … on line and my past was coming out of my head, what a wonderful time I had with Paul in Birmingham," Bob said in an email in October of 2004. "[Y]our dad was my mentor and friend."
AGVA Salute to Freedom flyer
Bob joined Dad there, for the concert in Birmingham, too—also to work security. Because Bob was there, I have this photo of Dad and James Baldwin at the AG Gaston Motel, where the participants gathered before the big concert, which featured Ray Charles, Johnny Mathis, Nina Simone, Ella Fitzgerald and others.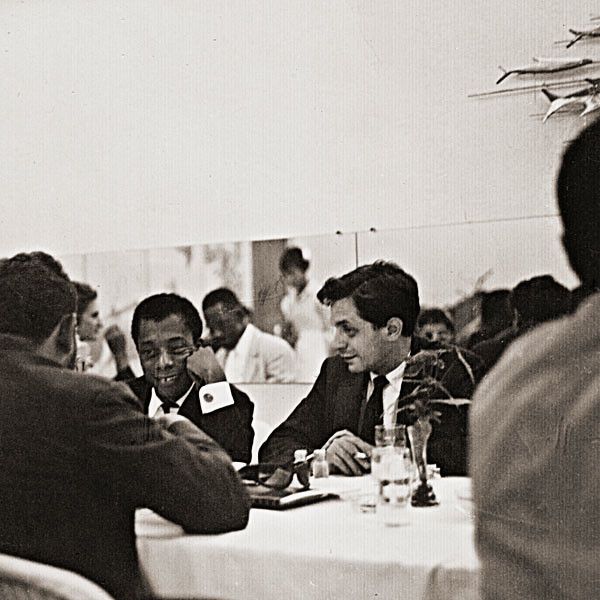 James Baldwin and Paul Greenberg at the AG Gaston Motel, Birmingham, AL, August 4, 1963 (Photo by Bob Adamenko)
I wasn't able to reach Bob after I published this photo in an article in 2011, but as the 50th anniversary of the March on Washington has been approaching it seemed like a good time to try again.
In 2005 Bob had scrawled on the contact sheet with silver metallic sharpie: "March to Washington 1 day out - prep. I still haven't found the rest of these negatives." I thought, maybe he's found the rest of the negatives in the time since. And maybe he can tell me some of the specific details of how he and my father were involved in the March. The photos and the memories would be precious.
My email to Bob bounced and his phone number was no longer active. I called a relative of Bob's who had let me know when his wife passed away in 2007. Bob's relative explained that Bob lives in a nursing home now and is not in good enough health to talk. She gave me a phone number for Bob's son, who is around my age. I called and left a message on the answering machine.
Bob and my father teamed up on many adventures, partly through their mutual involvement in the Liberal Party of New York.
Bob Adamenko, Paul Greenberg, and John Lindsay in 1965, at Lindsay's first public appearance after winning the mayoral election in NYC.
Back when my family lived in Teaneck, NJ, from about 1970 to 1975, we spent time with the Adamenkos, who lived nearby in Teaneck or Fort Lee. When I was a boy, Bob called me Ben Ben. I still remember his exuberance and warmth then and when he contacted me in 2004.
Missed opportunities like this one come with the territory of the historical journalism that I do. And they are always hard.
Maybe Bob's kids have those negatives.
---
---
Date
August 21, 2013
---
---