Abiding Mysteries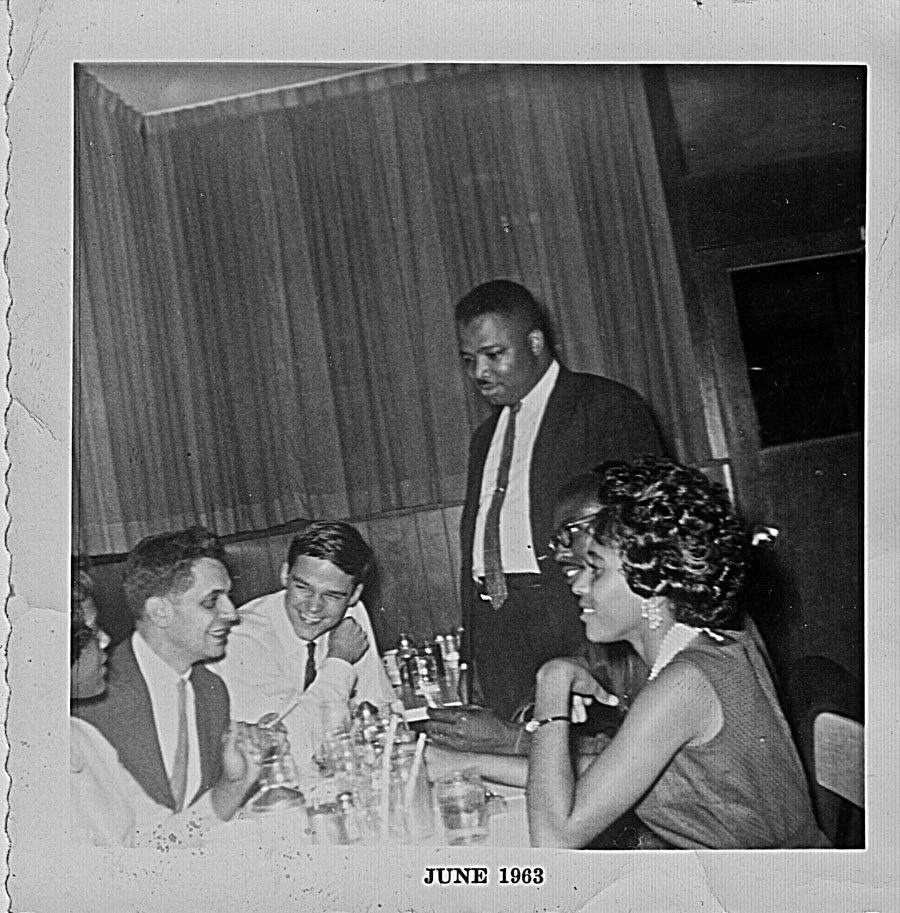 Paul Greenberg, AD King and others. Birmingham, AL, June, 1963
I started my other blog in 2004 to write about my dad's involvement in the left generally and the Civil Rights Movement particular. I had no plan. In fact, the point of starting a blog was to write without a plan.
But as I got going, people started asking me if I was writing a book.
Something about driving to New York City to interview Dad's political compatriots. Or about flying to San Francisco to (attempt to) interview a cantankerous, elderly jazz singer friend of Dad's brotherly mentor, the late, great trumpeter Frankie Newton. Or about making dozens of FOIA requests and visiting archives.
I was a PhD student, after all. If I needed to know something, I researched.
I struck gold early on and got to see some bits of my dad's life as civil rights activist in Birmingham materialize when my FOIAs turned up the Roosevelt Tatum story.
On Saturday morning, June 22, 1963, at around 9:00 a.m., A. D. King1 answered his front door and found Roosevelt Tatum. He was crying and saying he had something in his heart he wanted to tell. Tatum came inside and immediately noticed Paul Greenberg, the only white man among the dozen or more people in the house. Tatum had overcome his fear and wanted to say what he saw. When Tatum explained what he'd seen six weeks earlier, King asked him to talk to the FBI. Tatum agreed and King called the Birmingham FBI office to say that a man was at his home who saw persons responsible for the bombing.

When Agents Graybill and McFall arrived at the King residence, they found Tatum there, in the company of A. D. King, Paul Greenberg, and King's secretary. The agents noticed alcohol on Tatum's breath, and he explained that he'd had a couple of drinks for the nerve to tell what he saw. A. D. King explained that Roosevelt Tatum claimed to have seen two Birmingham Policemen in car 49 bomb the [AD and Naomi] King residence. Identifying himself as an employee of the Southern Christian Leadership Conference, Paul Greenberg interjected, wanting to know how soon publicity could be released. One of the agents replied, "the FBI is strictly a fact-finding agency; we are present solely for the purpose of obtaining the facts. Any premature publicity might only tend to jeopardize the investigation." The Kings and Greenberg returned that they expected, in any case, to be present when Tatum would be interviewed.
I found the photo up top, of my father and AD King, more recently. It turned up just a few years ago, when my mom was packing up our 35-year family home in Delmar, NY to move to Delray Beach, FL.
June 1963 on the photo. How does it fit into the story? Was it before or after June 22? What was Dad doing there in Birmingham at the point when the photo was taken? What was he doing there at AD and Naomi King's house before Tatum showed up on June 22? What establishment is that in the photo, with whites and blacks eating together? Who are the others in the photo besides Dad and AD King?
The energy of the scene seems to come from the interaction between Dad and the man with glasses. Look how engaged they are. What are they talking about? Why is AD King standing? Did he just get there? King seems slightly withdrawn, observing rather than participating, perhaps bemused by the scene or letting his mind wander to other things.
In 2005, I went to Alabama—my first time in the deep South. I visited SNCC veterans Scott B. Smith, Jr. and Linda Dehnad in Montgomery. Scott B took me to Selma and to the rural towns of Lowndes County, to the haunts from his days as one of the original Black Panthers with Stokely Carmichael in the Lowndes County Freedom Organization. You could say I helped establish Cleophus Hobbs Day.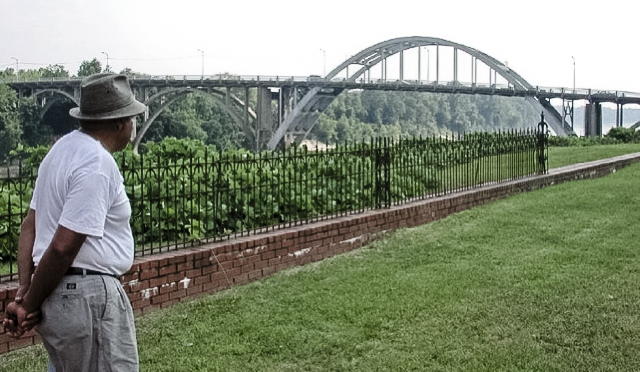 Scott B. Smith, Jr. looks out at the Edmund Pettus Bridge in Selma, AL. (Photo by Ben Greenberg.)
But I never went north to Birmingham. I went west to Mississippi.
By my fourth or fifth time back in Mississippi, it became clear that I was making a choice between the work I'd found there on civil rights cold cases and that unintentional book about my father.
I'm not giving up on the book about Dad, but time and resources for the work are limited—and both projects involve a shrinking window of opportunity to pursue living people with answers that will be lost to history once they die.
So for now, I focus on the project that I do because of him rather than the project that is about him.
---
---
---
Date
June 19, 2013
---
---